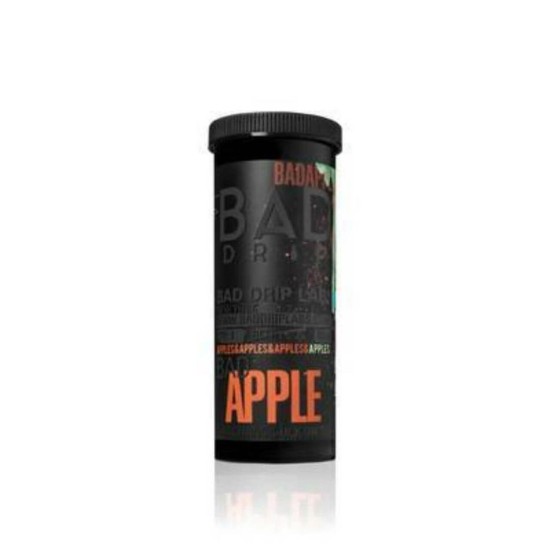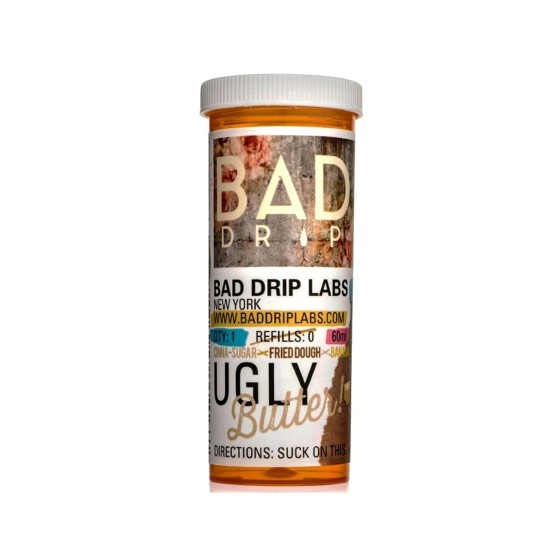 Bad Drip's Bad Apple is...apple. It's the best blend of apples you probably have ever tasted in all the time vaping!

Bad Drip's Bad Blood is a sensational construction of perfectly picked blueberries with a squirt of pomegranate juice and topped off with a dash of vanilla dust.

Bad Drip's Cereal Trip is a phenomenal fruity cereal flavor with a special twist to it, with the addition of frosted donut flavor for a special hybrid treat dipped in a glass of ice cold milk.

Bad Drip's Dead Lemon comes alive with exquisite flavors of bursting citrus candy and powdered sugar that is sure to keep your lips puckered!
Bad Drip's Don't Care Bear is a specially crafted blend of sour patch bears, with a variety of fruity notes ranging from peach, pear, and melon. Truly vibrant and delightful.
Drooly by Bad Drip has the flavor profile of your favorite, lip-smacking, hard candy that is infused with grapes and berries.
Bad Drip's Farley's Gnarly Sauce is a masterpiece of sweet and fruity blend, presenting a balance of sweet and tangy kiwi strawberries mixed with a special bubblegum nectar for an otherworldly mix.
Laffy By Bad Drip is the reminiscent flavor of soft, sticky, and chewy blueberry taffy, blended with grape candy.
Bad Drip Pennywise offers a delicious puff of crisp watermelon, sweet strawberry, and classic bubblegum flavors
Sweet Tooth by Bad Drip has an e juice flavor profile of Raspberry Cotton Candy which will rock you into another dimension that is how delicious this sauce is.
Bad Drip's Ugly Butter is a delectable dessert blend with a creative twist to it, delivering a fluffy fried dough base with carnival cultivated cinnamon-sugar and a mix of banana pudding to complete a delicious treat.


Brand: Bad Drip

Nicotine Type: Freebase

Bottle Size: 60ml

Bottle Type: Plastic

Nicotine Levels: 3mg

VG/PG: 70/30
Disclaimer: This product is intended for use by responsible adult vaporizer users over the age of 18 (or the legal smoking age of your state). Our products contain nicotine, a chemical known to cause birth defects or other reproductive harm. Nicotine is highly addictive and may be habit forming. Nicotine can be found in E-Liquids and can be dangerous to your health.

E-liquids should be stored out of reach from children and pets. E-Liquids are not a safer alternative to cigarettes, are not FDA approved and are not designed for use by persons under legal smoking age. E-Liquids may contain 0.0%, 0.3% or 0.6% Nicotine which can be poisonous or even lethal if inhaled or consumed in large amounts.
If you experience any side effects, or possible side effects with Nicotine or E-Liquids, stop using the product immediately and consult a physician. Possible side effects and health issues include, but are not limited to: lung cancer, emphysema, chronic bronchitis, heart disease, stroke and diabetes.
All products containing Nicotine may be poisonous if orally ingested or if it makes contact with your skin. Do not use Nicotine or E-Liquids if you have any underlying medical condition which may be intensified by the products sold. The ingredients in E-liquids may contain small amounts of nuts, gluten, sugar, sweeteners or flavorings. Do not use this product if you are allergic or sensitive to any of the common ingredients in E-liquids, such as Propylene Glycol, Vegetable Glycerin or Nicotine.
Choosing flavors of e-Liquid should be based on your personal liking. The descriptive flavors of e-Liquids are subjective due to the difference in taste buds among e-cigarette users. For the best quality and taste of your e-Liquid, shake well before each use. Please do not drink e-Liquids. If such incident occurs, contact your local Poison Control Center.