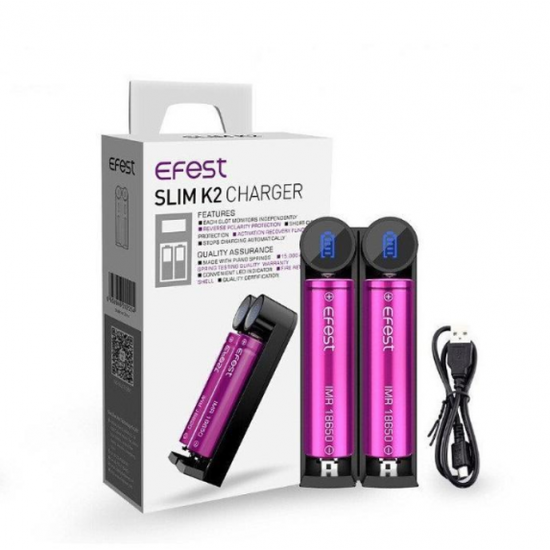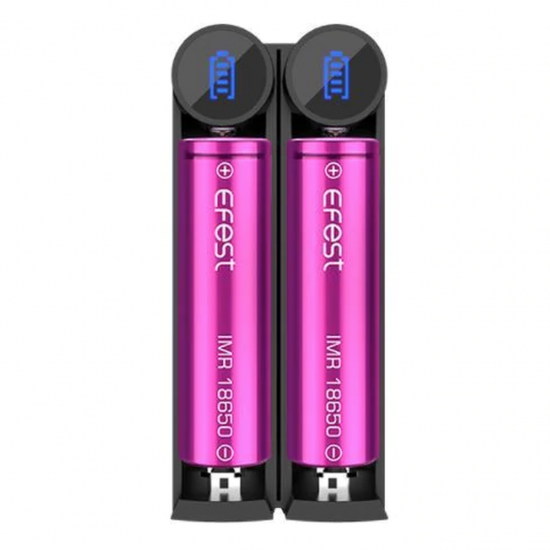 Efest SLIM K2 Intelligent Charger
Stock:

In Stock

Model:

k2
Description
The Efest Slim K2 Battery Charger is 100% authentic in performance and quality! The exclusivity behind the Slim K2 Battery Charger is its widespread reputation of being a dynamic charger and more importantly, occupying a sleek body for easy portability.

For starters, the Slim K2 is a dual-slot battery charger, so you're able to charge two batteries simultaneously at an aggressive speed. The beauty behind the capability of this charger is that you're able to charge different battery types in each port of the charger. While charging a single battery, the Slim K2 provides a charging current of 1A and re-powers the battery effortlessly and quickly.
Not to be outdone, the top of each slot on the charger contains an active LED battery level indicator to provide the consistent status of each battery's charge. The Slim K2 Charger is also equipped with features like Reverse-Polarity Protection, Short-Circuit Protection, and Overcharge Protection, to ensure the protection of your charger and the batteries.
Batteries are sold separately.
Charger Features:
Number of Bays: 2

AC Input: 100V – 240V (50/60Hz)

DC Input: 5V (1A)

DC Output: 5V (1A)

Auto-Recharge Voltage: 4.10V

1A CC Current: 1000mA

Cutoff Voltage: 4.2V

Standby Current: <20 mA

Activation Current: 50mA – 100mA

Compatible with: 10440, 16340, 14500, 14650, 17500, 17670, 18350, 18490, 18500, 18650, 18700, 22650, 26500 and 26650
Package Contents:
1x Efest Slim K2 Battery Charger

1x Charging Cable
WARNING:
Never use your battery chargers for batteries other than the ones described and detailed on the package in which it came.

Making attempts to charge batteries other than what the charger calls for is seriously threatening and may even cause bodily injury. Because batteries contain Lithium-Ion, serious damage can occur if improperly used.

Carefully read the battery charger's instruction manual as well as the safety information provided to you. Adhere to all of the directions and proper operation of the charger within the manual.

Only use your battery charger indoors. Exposing your charger to high/low outdoor temperatures or high humidity can ruin the charger.

Do not store or expose this charger to water.

Never take apart or tamper with the battery charger.

Do expose your battery charger near open flames.

Do not leave batteries unattended.