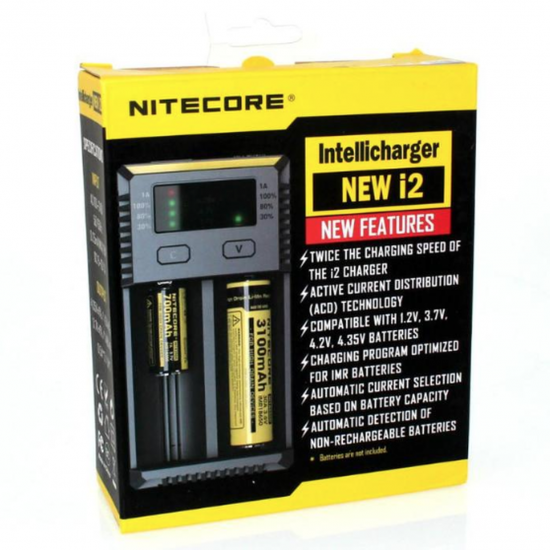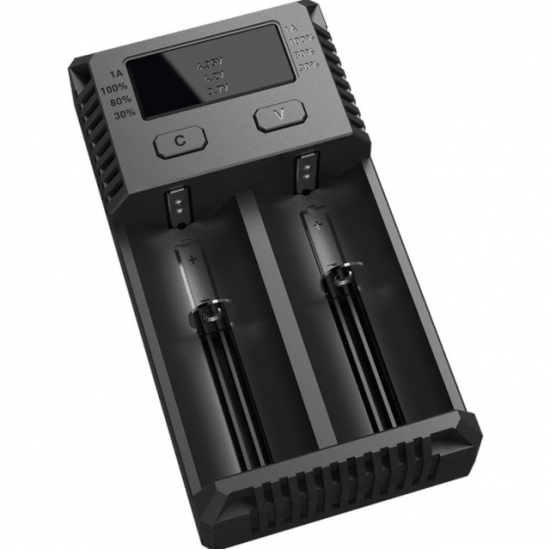 NiteCore I2 IntelliCharger
Stock:

In Stock

Model:

i2
Description
The new Nitecore i2 Intellicharger is 100% genuine and authentic! Every aspect of this charger is designed with detail for your charging needs. Made of pure copper, the spring-loaded battery contact plate on this charger reduces contact resistance to reach a more accurate charging voltage. This feature produces less heat and delivers a smooth gliding action when installing and removing batteries.

The i2 Intellicharger is compatible with batteries made of Lithium-ion (Li-ion), Nickel Metal Hydride (Ni-MH) and Nickel Cadmium (Ni-Cd). This charger can detect your battery's status and determine the appropriate charging and termination voltage all while providing maximum power without the risk of overcharging. Providing a safe experience, the i2 Intellicharger is constructed from fire retardant ABS materials and designed for optimal heat dissipation. J
Batteries sold separately.
Charger :
Input:
AC 100-240V 50 / 60Hz

0.25A(MAX) 8W

DC 12V 1A
Output:
4.2V ± 1%

1.48V ± 1%

0.5A*2

IMR / Li-ion: 26650, 22650,, 18490, 18350, 17670, 17500, 16340(RCR123), 14500, 10440 Ni-MH / Ni-Cd: AA, AAA, AAAA, C
Features:
Made of fire-retardant ABS material

Compatible with IMR/Li-Ion/LiFePO4/Ni-MH/NiCd batteries

Charges sizes from RCR123 to D cells

Can charge two batteries simultaneously

Each slot monitors and charges separately

IMR-optimized charging program

LCD screen shows charge status and voltage

Two independent charging circuits

Automatic and manual program selection

Reverse polarity and overheat protection

Automatically stops when power is full to prevent overcharging

LCD screen replaces old i2 power bar

100% charging acceleration

Active current distribution technology

Expanded compatibility to support 3.7V and 4.35V batteries

IMR battery restoration

Automatic current selection based on battery capacity

Automatic detection of non-rechargeable lithium batteries

Designed for optimal heat dissipation

RoHS, CE, FCC, CEC and KC certified
Package Contents:
1x Nitecore i2 Intellicharger

1x Power Cord

1x Instructional Manual
WARNING:
Never use your battery chargers for batteries other than the ones described and detailed on the package in which it came.

Making attempts to charge batteries other than what the charger calls for is seriously threatening and may even cause bodily injury. Because batteries contain Lithium-Ion, serious damage can occur if improperly used.

Carefully read the battery charger's instruction manual as well as the safety information provided to you. Adhere to all of the directions and proper operation of the charger within the manual.

Only use your battery charger indoors. Exposing your charger to high/low outdoor temperatures or high humidity can ruin the charger.

Do not store or expose this charger to water.

Never take apart or tamper with the battery charger.

Do not expose your battery charger near open flames.

Do not leave batteries unattended.