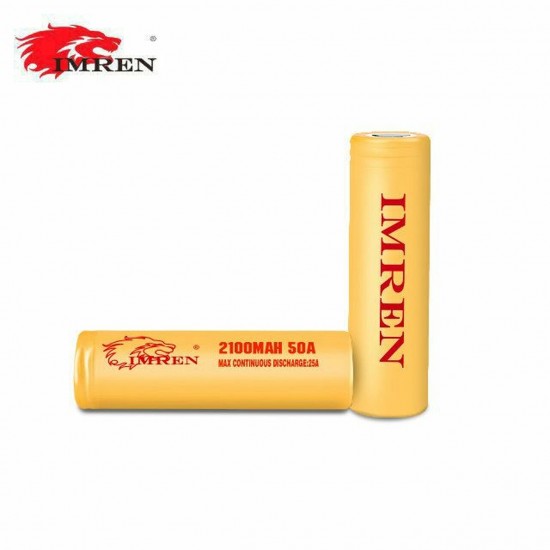 Imren (Gold) IMR 18650 (2100mAh)
Stock:

In Stock

Model:

gold
Description
Imren (Gold) IMR 18650 (2100mAh) 50A 3.7v Battery Flat-Top
Product Specifications:
18650

Nominal Capacity: 2100mAh

Nominal Voltage: 3.7V

Maximum Voltage: 4.2V

Discharge: 25A Max Continuous, Rated 40A Max Pulse by IMREN

Positive: Flat

Protected: NO, UNPROTECTED

Rechargeable: Yes

Dimensions: 18.33mm x 64.84mm
Usage Specifications:
Fully charge before initial use

Always charge battery in/on a fireproof surface

Never leave charging batteries unattended.

To avoid short circuits, keep this battery away from metal objects (e.g. coins, keys, jewelry)

Keep the battery in its case or any other insulated material

To avoid shortening your battery's life, do not overcharge it-- doing so may result in the battery popping or leaking

Do not use the battery if there are signs of previous usage

Do not dispose battery with the use of fire

Stacking more than one battery at a time may result in explosion.

Never short the battery. Connect the positive and negative sizes.

Use special caution when working with Li-ion (Lithium-ion), LiPo (Lithium-ion Polymer) and any rechargeable cells.
WARNING: When handling batteries, always use proper precautions. Improper usage of Li-ion (Lithium-ion), LiPo (Lithium-ion Polymer) and any rechargeable batteries and chargers may result in temporary or permanent damage to batteries, chargers and can result in personal injury. Battery cells are extremely sensitive to charging characteristics and may cause burns and/or explosion. Mahabir's Agencies is not responsible or liable for any damages, injuries or defects initiated by the operator and/or consumer of our batteries and chargers containing Li-ion (Lithium-ion) and/or LiPo (Lithium-ion Polymer). Any mishandling, dismantling, alterations or abuse of our batteries and chargers in any way is not the obligation of Mahabir's Agencies. The operator and/or consumer is responsible for reading and interpreting the safety issues assigned to every product description. The operator and/or consumer also assumes the responsibility that all of our products are USED AT YOUR OWN RISK.